SCREEN PRINTERS PERTH
Get professional-quality screen printing for uniforms, casual wear, accessories and more. Flash Uniforms are the leading screen printers Perth , Australia, providing a wide range of custom screen printing services. Whatever you need your design printed on, whether it's a tote bag or a polo shirt, we can provide you with outstanding results. Get your designs printed in bright, bold colour, using materials and prints that are guaranteed to last. Order today and pay no setup fees. Just pay for screen printing! Choose a product from our range or bring your own to get started.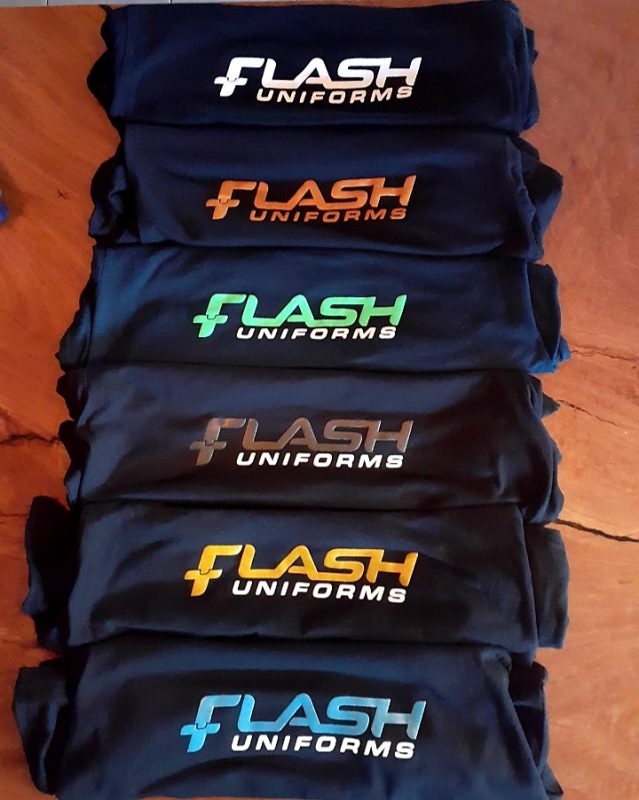 Clubs and Corporate Embroidery
If you're looking to add a bit of class to your school, work or sports club uniforms, embroidery is the best way to do it. Embroidery is ideal for logos and branding. With high-quality embroidery your chosen design will look better than ever, making you appear professional. We've done embroidery for a wide range of businesses, sports clubs, school uniforms and more, helping people show their team logos in bright, embroidered colours.
If you need to make a large order, or have specific requirements, you'll be assigned a dedicated account manager to guide you through the process. Your account manager will assist with design decisions and provide you with mock-ups, allowing you to see what you're getting before you order. We pride ourselves on delivering an exceptional service, and work hard to ensure you get the results you're after.
Call Us Now
Order Screen Printing Online Today
We use advanced machinery and techniques to complete all screen printing jobs. Not only does this make it easier to get the results you're looking for, it saves you time and money. With no middle man, there's nothing stopping us from saving you money on your screen printing. Additionally, we use only the very best water-based and plastisol inks and can personally control the quality of each order to deliver stunning screen printing results for screen printing Perth every single time.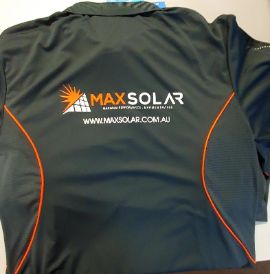 Why Choose Flash Uniforms Screen Printers Perth?
On-time delivery
Exceptional quality
Bulk wholesale pricing
We print all out t-shirts in house, hence there is no middle man and we can pass on that savings directly onto you
Excellent customer service
We deliver to Sydney, Melbourne, Adelaide, Brisbane & Perth
Free mock-ups and visual proofs on all jobs
No setup fees at all even for screens as long as vector files are supplied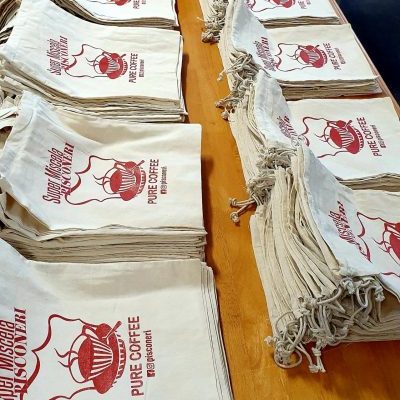 Our Brand Partners
We offer a wide range of brands, chosen for their reputation and quality. Our selection includes:
As Colour
Biz Collection
Ramo
Aussie Pacific
Stancil Clothing
Get professional-grade screen printing for casual and formal wear, accessories, and much more with Flash Uniforms in Perth, Australia. We are the premier screen printers in the area and can provide you with the highest quality services. Whether you need a design printed on your tote bag or polo shirt, we have the technology and experience to provide you with spectacular results.
Take advantage of our durable materials and thanks to using bright, bold inks in your order You won't regret choosing a product from our range to use, or requisition anything specific for those seeing the order. And you'll never pay anything for setup!
 What is Screen Printing?
Screen printing is the process of adding images or text to a substrate by pressing ink through a mesh screen. The technique has been around for centuries but became popularized in the early 20th century. Today, screen printing is used to create everything from t-shirts and hats to invitations and posters.
There are two main types of screen printers: offset and digital. Offset printers print onto large sheets of paper that are then cut into individual prints. Digital printers print directly onto a substrate, like fabric or paper. Both types of printers have their pros and cons, but either one can produce high-quality prints.
If you're interested in screen printing but don't know where to start, online resources like Google search can be helpful. You can also reach out to local businesses for help setting up your printer and learning the ropes.
Types of Screen Printing Processes
There are a few different types of screen printing processes.
The most common screen printing process is the offset print process, which is used by most commercial printers.
The second is the digital process, which uses a computer to control the print head and produce prints much faster than offset printing. The final process is the sublimation process, which uses heat and pressure to transfer ink from a carrier to a fabric
In the offset print process, a sheet of paper is loaded into an inkjet printer and a pattern or image is printed onto it using small dots of ink.
The next most common screen printing process is the digital print process, which is used by some small businesses and hobbyists.
The digital print process uses a computer to create an image or pattern on a piece of paper and then prints it using large dots of ink.
One final screen printing process is the photopolymerization print process, which is used by some high-end printers only for very high-quality prints.
The offset process, which uses large plates that are printed on a long line. This process is used for high-volume printing jobs.
What to look for when choosing a Perth Screen printer
When looking for a Perth screen printer, there are a few key things to keep in mind. First and foremost, you'll want to make sure that the print shop is licensed and insured. Second, it's important to check out their portfolio to see if their services match your specific needs. Third, it's important to ask around for recommendations - your friends and family may have had positive experiences with a particular printshop. Finally, be sure to price all of your printing options before making a decision - not all printers will offer the same rates.
Who uses screen printing in Perth?
Screen printing has rapidly become a popular way to create t-shirts and other apparel in Perth. Traditional printing methods, such as inkjet and lithography, are expensive and time-consuming, whereas screen printing is relatively quick and affordable. Additionally, screen printing is more environmentally friendly since it doesn't require the use of ink or other synthetic chemicals.
Some of the biggest names in Australian fashion use screen printing to produce their products. Some of the most popular brands that use Perth screen printers include Stussy, Palace Skateboards, Champion and Supreme. Screen printers in Perth are constantly adapting their methods in order to stay ahead of the curve and meet the demands of some of Australia's most recognisable brands.
What are the benefits of screen printing in Perth?
Screen printing is one of the oldest methods of printing. It uses a mesh screen to transfer ink onto fabric or other material. The mesh is filled with small holes, which allows the ink to be absorbed by the fabric. Screen printing is customizable and can create a high-quality print without the use of dyes.
Some of the benefits of screen printing in Perth include:
 Customizability: Screen printers can create prints that are customized to your specific needs.
 No dye required: Screen printing doesn't require any dyes, which means less environmental impact and fewer worries about toxins being released into the atmosphere.
 High-quality prints: With no need for inkjet technology, screen printers are able to produce prints that are of superior quality.
What are the challenges of screen printing in Perth?
Screen printing is a very popular printing technique that uses a screen to transfer ink onto a surface. The screen is often covered with a mesh material, which allows the ink to be absorbed by the paper and then transferred to the garment or fabric.
One of the challenges of screen printing in Perth is finding suitable locations to set up shop. There are few large enough spaces that are both accessible and affordable, meaning that many small businesses operating as screen printers in Perth must work out of home studios.
Another challenge faced by Perth screen printers is the high cost of printing materials. Many manufacturers only stock certain types of inks, which can make it difficult for small businesses to get their products printed. In addition, some materials – such as heat-sensitive adhesives – can be very expensive.
Custom Embroidery Designs
As well as free setup, we also provide free design mock-ups and visual proofs, as well as the cost of your order up-front. This way you can see exactly what you're paying for and for how much before anything goes ahead. After your order is complete, we'll ship it out to you as soon as possible. We charge a flat rate shipping fee, regardless of order size, Additionally, everything we produce comes with our excellence assurance thanks to our stringent quality control measures and in-house manufacturing processes.
Order Screen Printing Online Today
If you're looking for high quality, professional screen printing, Flash Uniforms is the one for you. We're the leading screen printers Perth, providing you with the uniforms and custom screen prints you're looking for. For more information on our services, call our team today. We're here to help you with anything you need. For screen printing Perth, order online today!